Arab military chiefs struggle over details of anti-terrorism coalition
Comments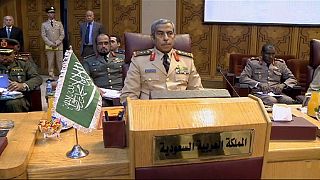 Military chiefs in the Arab states meeting for a second day in Cairo have been trying to put together a joint force to fight terrorist organisations across the Arab world.
Egyptian army chief of staff Mahmoud Hegazy, who headed the summit, said it was important that the unified military force plan be implemented this summer.
But there is no agreement – particularly between Egypt and Qatar – on how the force should be organised.
"The Joint Arab force reflects the will of some Arab states firstly to safeguard their national security and to fight against terrorist groups. It may also play a role in helping with rescue and aid operations after natural disasters," said military expert Morad Fathi.
The meeting follows a decision to form a coalition force at an Arab League summit in March and comes amid ISIL's onward march in Iraq and Syria as well as civil war in Yemen.
Euronews correspondent in Cairo Mohammed Shaikhibrahim said:
"The creation of this force is imperative to fight extremism and terrorism which is spreading in the Arab world, but the question of how to put these steps into practice is still facing a lot of difficulties, notably the deep political differences between Arab regimes."