US: Hillary Clinton emails published online
Comments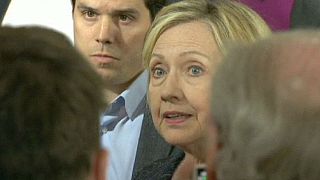 Messages from Hillary Clinton's private email account have been released by the US State Department.
I want people to be able to see all of them.
Many of them relate to the 2012 attack on America's consulate in Benghazi. Critics are keen to learn more about the former secretary of state's response to the incident.
But several congressional probes have found no "smoking gun" linking her to any failure to protect the four Americans who were killed.
The Benghazi attack has plagued Clinton for years. She went before an investigating committee in 2013.
"I want people to be able to see all of them. And it is the fact that we have released all of them that have any government relationship whatsoever," said Clinton.
"In fact, the State Department had the vast majority of those anyway because they went to what are called 'dot gov' accounts."
Clinton had called for the emails to be released as soon as possible, with critics questioning why she used a personal account rather than a government one while she was secretary of state.
She says it was more convenient and that no rules were broken.
Clinton is the front-runner for the nomination to represent the Democratic Party in next year's US presidential election.