Spain's regional elections threaten to shake-up traditional politics
Comments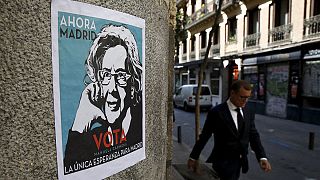 Voters go to the polls in Spain this weekend. They will elect leaders for 13 autonomous regions as well councillors in thousands of towns and cities.
Sunday's vote is seen as a litmus test for Prime Minister Mariano Rajoy's ruling conservative Popular Party, ahead of a general election later this year.
Amid anger over sky-high unemployment and belt-tightening, the hard left, Podemos anti-austerity party is hoping to pull in voters. As is the business-friendly Ciudadanos (Citizens) Party.
The two of them are threatening to shake-up Spain's traditional politics, with polls showing voter volatility.
Rajoy's Popular Party and rival Socialists have alternated national power since the fall of the Franco dictatorship in the 1970s.
"I hope we have a similar outcome to the European elections, where smaller minority parties got more support in relation to the two main parties," said a student.
A pensioner added: "I have jobless family members. My pension has gone up by a quarter of a percent and the cost of living has gone up more, so we have to try for change and see if others do better."
Businesses are pinning their hopes on Sunday's election too.
"We need a boost for the small and medium companies that provide jobs," said Eduardo Requejo.
"They are dead, because you cannot go to a bank and ask for credit. They tell you 'no, you have a social security debt.' Of course we have debts, but it is not our fault."
Rajoy is betting on accelerating economic recovery to win a second term later this year, claiming half a million jobs will be created.