Bardo museum attack suspect had been rescued off migrant boat, say police
Comments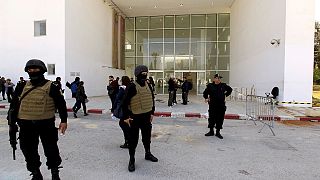 Italian police say a 22-year-old Moroccan man arrested in connection with the Bardo museum shooting in Tunisia arrived in Italy on a migrant boat one month before the attack.
Photos taken by a Reuters photographer show Abdelmajid Touil waiting in a Sicilian port to get off a navy vessel which had rescued him along with other migrants at sea in February.
Tutto quello che c'è da sapere sull'arresto del presunto attentatore di Tunisi. http://t.co/Fo7d560Kjlpic.twitter.com/9Q2DP2llrC

— Internazionale (@Internazionale) May 21, 2015
Italy's interior minister said they are not sure about Touil's movements after he arrived in Sicily.
Sources close to the investigation told Reuters they were "99 percent sure" he was in Italy during the March attack.
Tunisia said it has arrested most of those to blame for the shooting launched by militants loyal to a number of hardline religious groups.
The Bardo museum attack in Tunis left 21 tourists dead.