Why is Australia in the Eurovision Song Contest?
Comments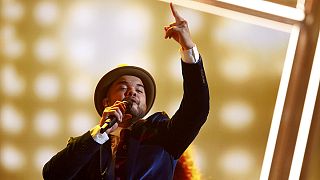 Australia's participation in the Eurovision Song Contest is a one-off event as part of celebrations for the competition's 60th anniversary.
The inclusion reflects the fact that the nation has been a long time broadcaster of the ESC, which has a strong cult following down under of around 2 million each year.
This is the first time a country from Oceania has taken part. The European Broadcasting Union says it will consider inviting other countries from outside of Europe in the future.
What is the song?
Guy Sebastian is representing Australia with the song Tonight Again
It has a slight Bruno Mars feel about it and tells of a perfect night that he doesn't want to end.
Sebastian wrote it specifically for the Eurovision Song Contest in only one week he says, along with regular collaborators David Ryan Harris and Louis Schoorl.
The Malaysian-born singer-songwriter was the first winner of Australian Idol in 2003 and is currently a judge on the X-factor in Australia.
With eight top ten albums under his belt in Australia, and one in New Zealand, the 33-year-old would already seem to have a head start over the 26 other finalists.
What happens if Australia wins?
Traditionally the ESC is always held at the home city of the winning entry.
If Australia wins, it will be able to return for next year's Eurovision which would be organised by SBS – the Australian channel that broadcasts the ESC – but it would be held in a European host city of their choice.
What are the odds?
Eurovision's notoriously political voting – where countries tend to vote for their neighbours – means that the Oceanic country is unlikely to claim the top spot.
The favourite this year is Sweden's Måns Zelmerlöw with the song Heroes
Odds 2/1
Russia claims the second-favourite spot as the singer songwriter and actress Polina Gagarina performs A Million Voices
Odds 3/1
In third, according to bookmakers, is a young operatic trio from Italy called Il Volo (The flight, in English) who share a manager with Andrea Bocelli. They'll be trying to enchant international audiences with Grande Amore
Odds 7/2
And Austalia are fourth favourites with bookies, with odds of 13/2.
You can judge it for yourself below:
The Eurovision Song Contest is broadcasting live from Vienna, Austria on Saturday night. (May 23)