UK: Cameron unveils immigration clampdown as statistics soar
Comments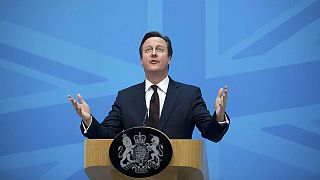 As new data showed net migration to Britain at its highest levels in a decade, David Cameron hopes a string of new measures will reassure those who have just voted him back into office.
The prime minister saw for himself how immigration enforcement
teams work, visiting a premises in West London, soon after it had been raided by officers.
Under pressure after failing to meet his own targets to get migration down, he set out his get-tough proposals in a new Immigration Bill.
"I can announce we'll push them forward with a new Immigration Task Force that has to start with making Britain a less attractive place to come and work illegally," Cameron said in a speech in London.
"The truth is it's been too easy to work illegally, and too easy to employ illegal workers here in the UK. So we're going to take a radical step and make illegal working a criminal offence in its own right."
At Calais on the other side of the English Channel though, the UK
remains a dream destination for migrants, many of whom have travelled from the other side of the world, fleeing persecution and poverty. At sprawling camps, they await their chance to slip into Britain.
Cameron's other battle is in controlling the numbers of European Union citizens legally moving to the UK.
He said on Thursday that restricting EU migrant access to Britain's welfare system is a red line in his negotiations with the bloc.
Re-elected on May 7, Cameron has pledged to reshape Britain's ties with the EU before holding an in-out EU membership referendum by the end of 2017.