Santa Barbara coast devastated by nightmare oil spill
Comments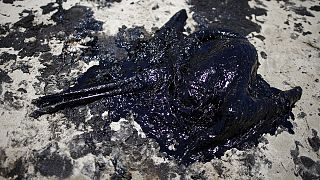 It is one of only five climates of its type in the world, but California's Gaviota coast in Santa Barbara county, is facing an ecological disaster from which say some experts it may never recover. Some locals are already calling it a "nightmare".
The Houston-based Plains All-American pipeline company says nearly 400,000 litres of crude oil have spilled on land and at sea.
"We continue to recommend avoidance of the affected areas as exposure to oil and or its fumes can result in health impacts," said the Director of Santa Barbara County Public Health Department: Dr. Takashi Wada.
The ruptured pipeline was built in 1987 to take crude south to Texas for refining. The company says this is the pipeline's first malfunction.
The location of the spill is symbolic; it was here in 1969 that a much bigger spill launched the environmental movement in the USA.
"We apologise for the damage that has been done to the wildlife and to the environment and we're very sorry for the disruption and inconvenience it has caused on the citizens and visitors to this area," said PAAP's boss Greg Armstrong.
Previously undeveloped, the Gaviota coast was considered as southern California's healthiest surviving coastal ecosystem and as such has a particularly diverse flora, fauna, and marine life.
"A few pelicans started washing up. We had a few other seabirds wash up. A few seals were coming through as well. It's really sad," said volunteer beach-cleaner and student Ben Lerner.
The area failed to win national park status when former president George W. Bush turned down the application. Environmentalists say the spill proves big oil companies are incapable of regulating themselves.