Netanyahu supports call for a two-state solution with Palestinians
Comments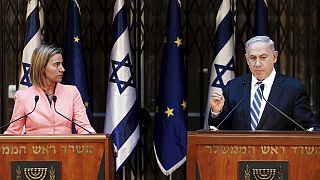 Israel and the European Union have renewed calls for a two-state solution to the Israeli-Palestinian conflict.
It came during EU foreign policy chief Federica Mogherini's first visit to the region.
The statement contradicts Prime MInister Benjamin Netanyahu's recent election message of saying he would not permit a Palestinian state to be established on his watch.
His remarks at the time drew a comment from US President Barack Obama saying, "it made it hard to find a path back to serious peace negotiations".
Those negotiations brokered by Washington last broke off in April 2014 in a dispute over Jewish settlement building in occupied land and Palestinian accusations that Israel had not fulfilled all the terms of a promised prisoner release.