US releases list of documents seized in Bin Laden raid
Comments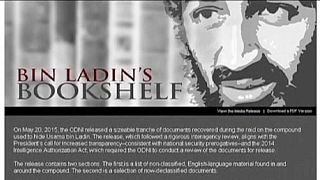 US intelligence has released – after months of pressure to declassify documents – a list of the reading materials found in Osama bin Laden's compound.
US special forces raided bin Laden's hideout in Abbottabad in Pakistan in 2011, killing him on the spot and carrying away a large cache of documents, books, hard drives, and pornography.
The books reveal a wide-ranging interest in US foreign policy and economics. Many reveal he was planning to cripple France economically in a bid to undermine the EU. There were also the standard jihadi texts, and books by renegade philosophers like Noam Chomsky.
Now the complete list of captured works has been published, although details of the pornography have been held back. Included are several letters, notably his last will and testament, addressed to one of his wives.