Twitter trailblazer Barack Obama smashes world record
Comments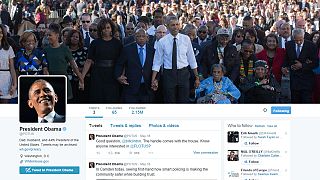 Twitter trailblazer Barack Obama has smashed the world record for being the fastest to a million followers, it's been confirmed.
The US president's Twitter account – @POTUS – reached the milestone in less than five hours, according to the Guinness Book of Records
Obama already has his own Twitter account, with nearly 60m followers, but the new presidential one is newly-created.
Hello, Twitter! It's Barack. Really! Six years in, they're finally giving me my own account.

— President Obama (@POTUS) May 18, 2015
The previous record was held by US actor Robert Downey Jr, who amassed 1m followers in 23 hours and 22 minutes.
Obama, in terms of his personal account, is the most followed world leader on Twitter. India prime minister Narendra Modi had 12.4m people tracking him, at the time of writing.
EU leaders are not so prominent. In terms of personal account, Italy's PM Matteo Renzi has the most followers with 1.86m, followed by his British counterpart David Cameron, who is on 1.07m.
Twitter followers: how do world leaders compare?
Twitter's role in politics
Obama was a pioneer of using Twitter and other social media for his first presidential campaign.
A study by the Pew Research Center, looking into the importance of social media in the 2012 presidential campaigns, concluded: "A new study of how the campaigns are using digital tools to talk directly with voters-bypassing the filter of traditional media finds that the Obama campaign posted nearly four times as much content as the Romney campaign and was active on nearly twice as many platforms.
"In theory, digital technology allows leaders to engage in a new level of "conversation" with voters, transforming campaigning into something more dynamic, more of a dialogue, than it was in the 20th century. For the most part, however, the presidential candidates are using their direct messaging mainly as a way to push their messages out."
Twiplomacy, a 2015 study looking at politics and Twitter, found the increasing importance the platform was assuming.
It claimed, as of March 2015, that 86 percent of the 193 UN member countries had a Twitter presence.
I'm running for president. Everyday Americans need a champion, and I want to be that champion. –H https://t.co/w8Hoe1pbtC

— Hillary Clinton (@HillaryClinton) April 12, 2015
Twitter, it added, is also being used to break news from government circles, rather than using traditional media.
It cited the example of the Iran nuclear talks in Lausanne, where those involved would update the media and public via Twitter.
The Pew Research Center has also speculated whether the 2016 race for the White House will represent a tipping point in terms of presidential hopefuls announcing their candidacy on Twitter, rather than with a public speech.
Hillary Clinton and Ted Cruz both used Twitter to declare they were running for president.