Soldier killed by police fire in Burundi, say witnesses
Comments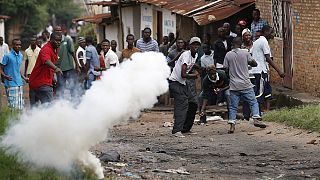 A soldier has been shot dead in Burundi's capital Bujumbura. Witnesses say he was hit in the chest on Wednesday by a bullet fired by police who had shot into the air to disperse protesters.
The move comes amid continuing unrest over Burundi's embattled president Pierre Nkurunziza's decision to run for a third term in office and a failed bid to overthrow him last week.
"This is all a trick they are playing on us," explained protester Vianney Nkuzimwami. "I don't see how the president of Burundi, the father of the nation, can send his forces to shoot at us, and all of you have seen what they are doing."
More than 20 people have been killed in nearly one month of unrest.
Critics of Nkurunziza say his reelection bid violates the constitution which says the president may only serve two terms.
He argues his first term did not count because he was appointed by parliament rather than a direct vote.
Elections that were due to take place on May 26 have now been postponed until early June.
Our thread on conflict in #Burundi's capital today https://t.co/gmNvT4NJsm police fired on protests, journalists threatened & refused access

— reported.ly (@reportedly) May 20, 2015