Netanyahu kills bill to throw Palestinians off Jewish buses
Comments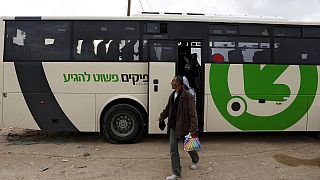 Israeli Prime Minister Benjamin Netanyahu stepped in to quash a law only hours after it went into effect on Wednesday as it threatened to blow up into a public relations disaster.
New Minister of Defence Moshe Yaalon accepted a longstanding Jewish settler's demand and banned West Bank Palestinians who work in Israel from using the same buses as Israelis.
"I've heard about it, but I haven't experienced it yet., although it will affect us significantly. My father said it will create long traffic jams on the way home from work," said one West Bank man.
The attempt to enforce the measure is a clear sign of the growing militant settler influence over the government, which has gone further to the right following the latest election.
"There is absolutely no security justification for the bus segregation policy, it is merely the result of the military establishment caving in to pressure by settlers. We are talking about a population of Palestinians who have work permits, who have proven they do not pose a security
threat to Israel. What this actually is, is one step in furthering apartheid in the West Bank, says human rights organisation Yesh Din's Emily Schaeffer.
It is not known why Netanyahu moved so fast to kill the bill, whether for practical reasons or because of the public uproar. A Wednesday visit by the EU's Foreign policy chief Federica Mogherin may be no coincidence.