EU migrant quota plans hit rough water
Comments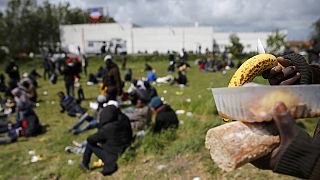 European Union plans to cope with the vast numbers of migrants risking their lives crossing the Mediterranean to get to Europe appear close to collapse.
A quota system to be imposed on member states stipulating how many refugees each country should accept is rapidly losing support with France now joining the "No" camp.
French President François Hollande made his comments while visiting Germany:
"There cannot be quotas for these migrants. An asylum right doesn't obey to quotas. We can't recognize asylum following the number of people to whom it would have been already granted. If refugees come to the same countries all over again, we need to take care that other countries also receive refugees and have their share, that's what I call distribution."
The UK last week said it would opt out of the scheme but now Spain, Estonia, the Czech Republic and Poland among several others are opposed to the idea.
EU backtracking
Italy's Prime Minister Matteo Renzi, whose country is bearing the brunt of the migrant surge, has accused EU members of backtracking and proposed re-floating the ship which sank with 800 migrants on board.
"Because it's necessary that the world sees what happened and that it recognizes that it's not acceptable to keep saying – as someone is saying – 'what you don't see, doesn't harm anyone," said Italy's prime minister.
The EU is also proposing taking military action against smuggling networks, including the destruction of smugglers' boats. It's awaiting approval from the UN security council for such action.
Around 51,000 migrants have entered Europe by crossing the Mediterranean this year, with 30,500 going via Italy. About 1800 have drowned in the attempt – according to the UN refugee agency.