Heard the one about the neutron that walks into a bar?
Comments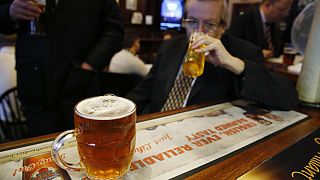 "A neutron walked into a bar and asked, "How much for a drink?" The bartender replied, "For you, no charge."
If you get that joke, there's a chance you already know about the Pint of Science festival, a fusion of beer and science that just two years after its launch has already gone international.
Started in 2013 by two neuroscience researchers at Imperial College London, the event allows scientists the chance to reveal and discuss their research in bars and pubs.
It's described by co-founder Michael Motskin as "TED talks with beer" and its popularity has spread far and wide. This year, between May 18 and 20, events are scheduled in 50 cities in nine countries.
There is, for instance, a talk on Robotics and Society on Wednesday at the Café Sete gastropub in Sao Carlos, Brazil.
Fans of neuroscience could be tempted by an Immune Surveillance forum in Berlin, while there will be some Quantum Physics banter at The Royal in Sydney, Australia.
Nick Spitzer UCSD on three ways of brain plasticity #PintOfSciencepic.twitter.com/VSbSdPa8he

— Zed Sehyr (@zedsehyr) May 19, 2015
The bulk of the action though remains in London, where most tickets sold out weeks ago. Britain has something of a soft spot for mixing beer and science: when James Watson and Francis Crick discovered the double helix structure of DNA in the 1950s, they announced it over a pint at The Eagle pub in Cambridge.
#pintofscience Tweets