Moscow demands access to Russians detained in Ukraine
Comments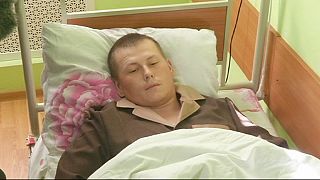 Russia has demanded access to two wounded citizens captured in eastern Ukraine. Kyiv says the men are Russian soldiers guilty of carrying out 'terrorist acts' in the country.
Both were wounded when they were taken prisoner on Saturday. The authorities invited international organisations and the media to clarify the facts.
"The aim of this meeting was to show that active representatives of the Russian armed forces and indeed citizens of the Russian Federation are in Kyiv now," announced an aide to the chief of Ukraine's Security Service, adding, "They have been detained in the course of a criminal investigation."
In a video released by Kyiv on Monday one of the prisoners said he had been part of a spying mission with a Russian special forces group. The Kremlin responded that they were not active members of the army at the time of their capture.
Kyiv has seized on the news as evidence of Russia's involvement in the separatist conflict in the east which has claimed more than 6,000 lives to date.