Lawyers call for case review in France's biggest rogue trader scandal
Comments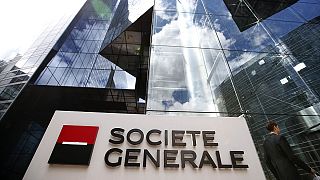 Lawyers for convicted French "rogue trader" Jerôme Kerviel have asked for his case to go before the Court of Revision after what they claim is new testimony from a witness.
The development follows a report in a French media outlet which quotes a source close to the original 2008 investigation saying Kerviel's managers at Société Générale bank must have been aware of his risky dealings.
The source goes even further, according to Mediapart's President Edwy Plenel:
"It was the investigating police woman herself who said Société Générale gave her the documents they wanted her to have, they didn't answer her legal requests for information and they chose the people they wanted her to speak to! In short, Société Générale set the conditions for the investigation," said Mediapart president.
The police officer in question Nathalie Le Roy allegedly said she became convinced Kerviel's managers must have been aware of his trading positions, during remarks made in the context of continuing litigation between the bank and Kerviel.
Société Générale have said they are surprised at the allegations and that they change nothing. Over the last seven years judicial decisions have repeatedly found that Kerviel was solely responsible for his unauthorized dealings which resulted in losses of 4.9 billion euros.
Jerôme Kerviel (38) was sentenced to three years in prison. He was freed last September, after five months behind bars, and is being monitored with an electronic tag.