France's Front National under fire for police acquittal tweets
Comments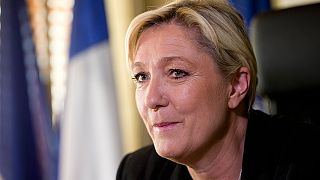 Marine Le Pen and members of France's Front National party have come in for criticism over their reaction to the news that two police officers were acquitted for failing to protect two boys who died in 2005.
Bouna Troare, 15, and 17-year-old Zyed Benna, chased by police, entered a power sub-station to hide and were electrocuted.
A judge decreed on Monday that the inaction of the officers did not contribute to their deaths, 10 years ago.
The FN leader subsequently tweeted that: "Today, justice has been served."
One Tweet responded: "Why today more than any other day? Do you have doubts about justice?"
@MLP_officiel Pourquoi Aujourd'hui plus qu'un autre jour? Vous remettez en question la Justice ?

— Alexandre Chemla (@Chemlux) May 18, 2015
Marion Maréchal Le Pen said: "The verdict proves that the riff-raff set the suburbs up in fire and blood for pleasure and not because of a police mistake."
One tweeted in response: "Frankly, don't you have shame for what you say?" While another said: "I feel bad for my father who risked his life in the French Resistance, to know that you are French."
Another tweet said: "I've rarely seen something so disgusting. Children are dead and you insult them. You are a disgrace to France."
@Marion_M_Le_Pen rarement vu aussi dégueulasse. Des enfants sont morts et vous les insultez. Vous êtes une honte pour la France

— Emmanuelle Cosse (@emmacosse) May 18, 2015
Très heureux pour les policiers. Victoire de la JUSTICE enfin. #ZiedEtBouna

— Florian Philippot (@f_philippot) May 18, 2015
Marion Le Pen was unrepentant in a response to her tweet on BFMTV. "I make no apology. I stand by what I said. Even if I am the last one of my FN friends to use the right words to say the truth."
The party's vice-president, Florian Philippot also waded into the controversy by tweeting that he was "very happy" for the officers and that justice had finally prevailed.
A lawyer for the family said they would appeal the court's verdict.