Colombia President promises to help families affected by deadly landslide
Comments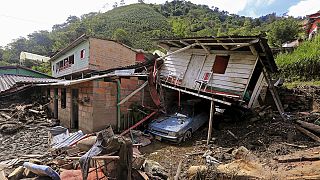 Rescuers in Colombia continue the search for victims of a landslide that tore through the town of Salgar killing more than 60 people and injuring dozens more in the worst disaster of its kind for a decade.
President Juan Manuel Santos visited the affected areas northwest of the capital on Monday, declaring a public emergency to free up funds for the victims, many of whom who lost everything in the deluge.
"I promised them, all of those who lost their homes, that we were are going to give them free homes. I promised them [Salgar residents] that we would give free houses to all those families who lost their homes," he said.
He promised around 6,000 euros to each family affected and promised infrastructure improvements to prevent another tragedy.
Houses built closest to the river were the worst affected when the landslide ripped through the town at a time when most residents were sleeping.