Charlie Hebdo, for richer, for poorer?
Comments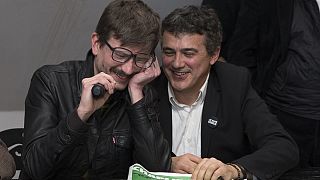 The coming departure of Charlie Hebdo's surviving cartoonist Renald Luzier casts a further shadow over the satirical magazine, adding to doubts about its viability. He had already drawn for Charlie Hebdo for 20 years when two Islamist gunmen killed twelve at its Paris office in January, and he carried on.
Luz, as he is known, said he was leaving for personal reasons, "to rebuild, to regain control of my life." He plans to begin that in September.
Luzier said in an interview with French newspaper Libération published late on Monday that his work load and the absence of his fellow satirists had become too much for him.
He described his perseverance after the massacre, saying, "Each issue is torture, because the others are gone."
The magazine that pillories religious and secular targets became a global symbol of free speech after the killings. A massive outpouring of solidarity resounded beyond France.
Yet the internal strains included how to cope with new money, as Charlie Hebdo sold more copies than ever before — millions.
Staff who spoke out about the now wealthy magazine's future direction included Luz and columnist Zineb El Rhazaoui. A few days ago, the management suspended her, one step short of sacking, saying she has repeatedly failed to meet her contractual obligations.
More controversy came when literary organisation PEN America last month gave the magazine a freedom of expression award; 26 prominent writers protested that Charlie Hebdo went too far mocking Islam.