Bakery fined for refusing to make gay marriage cake
Comments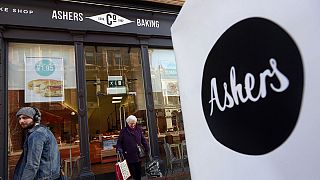 A bakery has been fined – for refusing to make a cake with a pro-gay marriage slogan on it.
Ashers Baking Company, based in Belfast, Northern Ireland, was found guilty of discrimination.
Owner Daniel McArthur, speaking outside the court on Tuesday before the verdict, said: "We happily serve everyone but we cannot promote a cause that goes against what the Bible says about marriage."
Gay rights activist Gareth Lee took the bakery to court after it cancelled his order for a cake with the slogan "Support Gay Marriage" on it.
Lee told a court hearing in March the bakery's move had left him feeling "unworthy" and "a lesser person".
District Judge Isobel Brownlie said Ashers had unlawfully discriminated against Lee on grounds of his sexuality and told it to pay a 500 GBP (695 euros) fine.
The case was funded by Britain's Equality Commission.
The controversy has become heavily politicised with some in the Democratic Unionist Party (DUP) backing the bakery's stance.
The DUP, which is for maintaining links with the British government, has proposed introducing a bill that would exempt religious people from equality laws.
But Martin McGuinness, a member of Sinn Fein, which wants a united Ireland, welcomed the judgement, saying it was a "good result for equality".
Asher's bakery judgement a good result for equality,Gay people have for far too long been discriminated against. We & the law on their side.

— Martin McGuinness (@M_McGuinness_SF) May 19, 2015
The ruling comes as voters in the Republic of Ireland – south of the border – vote on Friday (May 22) in a referendum over whether to legalise gay marriage.
Twitter reaction
BREAKING: #Ashers Bakery found guilty of discrimination in 'gay cake' row http://t.co/VfZwkOAPuppic.twitter.com/JrkeLNAFCV

— PinkNews (@pinknews) May 19, 2015
Whether you're pro-gay marriage or not, you have to recognise the huge shift in UK state preference for religious liberty to sexual liberty

— Tim Stanley (@timothy_stanley) May 19, 2015
Key paragraph from the #Ashers ruling: pic.twitter.com/1WtfKjjbX0

— Gavan Reilly (@gavreilly) May 19, 2015
Time to have an outing for this cartoon again….#Asherspic.twitter.com/9oBKuX7bpW

— Helen O'Rahilly (@HelenORahilly) May 19, 2015