Anti-president protest in Burundi ends in clashes with police
Comments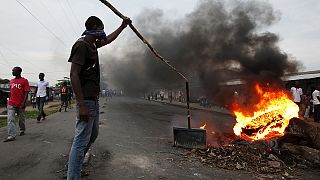 Another protest in Bujumbura began peacefully enough on Tuesday with calls for Burundi's President Pierre Nkurunziza to drop his bid for a third term.
But as marchers came out to defy government threats of a crackdown on demonstrators, police, as if on cue brought out the tear gas. At least eight people are reported to have been arrested.
One of the best photographers in the world, Goran Tomasevic, is in Burundi covering the protests. This is from today. pic.twitter.com/3by3ghJZxr

— Barry Malone (@malonebarry) May 19, 2015
Separately, shots were fired at the offices of the European Union's representative in Bujumbura, prompting the mission to demand the government step up its security.
Rights groups say at least 20 people have died in three weeks of clashes between security forces and protesters who say Nkurunziza's ambitions violate the constitution and peace deal that ended an ethnically fueled civil war in 2005.
In his first appearance since the recent failed coup attempt, Nkurunziza warned that Islamist group Al Shabaab was plotting attacks to an unbelieving opposition.
"They have been telling us about Al Shabaab for a long time," said one unconvinced resident."They are playing games with us….even the coup d'etat was a joke. They are playing games and we can see right through him and we will not allow it. We will continue to protest until the day he accepts to step away from the elections. We will continue even though they want to finish us , our grandchildren will continue..- until the last generation."
Despite Burundi president's attempt to crush them, protesters continue to oppose his 3rd term. http://t.co/YL0fvB4BaWpic.twitter.com/1iwJKuyMyg

— Kenneth Roth (@KenRoth) May 19, 2015
The president has sworn in new ministers following earlier protests but the longer the unrest continues the more chance that a conflict which has been until now largely a struggle for power, reopens old wounds in a region with a history of mass ethnic killing.
There is also the humanitarian crisis in the region. More than110,000 people have fled to neighbouring Rwanda, Democratic Republic of Congo and Tanzania, where cholera has been found among thousands of refugees sleeping rough.