Shi'ite forces to battle ISIL militants in Iraq's Anbar province
Comments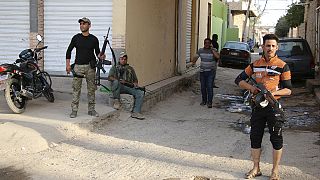 Shi'ite paramilitaries are to deploy to Iraq's western province of Anbar after ISIL militants reportedly overran the provincial capital Ramadi.
If confirmed it is the biggest defeat for the government in Baghdad for almost a year.
The apparent capture of Ramadi puts the militants just over a hundred kilometres from the Iraqi capital.
The city is dominated by Sunni Muslims so Iraqi Prime Minister Haider al-Abadi had been initially reluctant to deploy the Shi'ite militias for fears of a sectarian backlash.
Yousif al-Kilabi, a spokesman for the paramilitaries known as Hashid Shaabi, confirmed they have orders to mobilise:
"God willing, we will achieve this triumph and we will not accept anything less than that. We will be a real backbone for the security forces and an impregnable fortress for this country. We will support the legitimacy in Iraq represented in the government and parliament."
Around 500 people have been killed in fighting in Ramadi in recent days, while some 6 to 8 thousand have fled according to the provincial governor.
The self titled Islamic State have made significant gains despite facing opposition from the US-led coalition and Iraq forces as well as the Iran back Shi'ite militia.