Iraq: ISIL raises black flag over local government building in Ramadi
Comments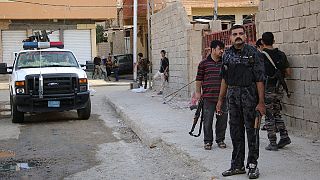 Militants from the Islamic State group raised their black flag over the local government compound in Ramadi, the capital of Iraq's Anbar province, on Friday.
It is a huge blow to Iraq's government and security forces, as fighting rages on.
"We will fight ISIL in Anbar as long as it takes," said Iraqi army Major Majeed Mohamed Ali.
"We will kick them out of Anbar."
But his determined words contrast with claims of victory from ISIL, ringing out through the loudspeakers of mosques.
Ramadi, 100 km west of Baghdad, has been contested since last year but the insurgents renewed their offensive on the city in April after being routed from the city of Tikrit by Iraqi troops and Shi'ite paramilitaries.
ISIL said it had stormed Ramadi's provincial government compound and taken control after "eliminating the apostates" who remained inside.
The fighting, culminating in Fridays attack in which the jihadists used up to six suicide car bombs to reach Ramadi city centre, has sent more than 130,000 people fleeing for their lives.