FYR Macedonia rights concerns spike over bloodshed
Comments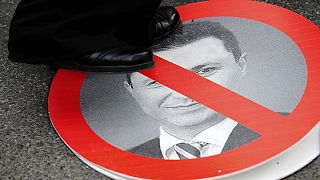 This is the worst crisis in the Former Yugoslav Republic of Macedonia since 2001.
Fourteen years ago, the country (FYROM for short) stood on the brink of civil war. Insurgents were demanding greater rights for the ethnic Albanian minority, some one quarter of the small country's population of 2.1 million.
Western governments hoped they could ease FYROM's ethnic tensions and encourage liberal democracy by holding out the prospect of membership in the EU and NATO, and by patching up the country's long-running dispute with Greece over the name 'Macedonia'.
Instead, European officials today admit they are seriously concerned over a deterioration in the rule of law, fundamental rights and media freedom.
On a scale of one to seven for democratic progress, advocacy group Freedom House rates Macedonia at the lower end: Four.
The government in Skopje is coming under international pressure to address accusations that it rigged parliamentary elections in April 2014, to win. The accusations were brought by the tiny country's left-wing opposition leader.
Zoran Zaev presented what he said were transcripts of illegally recorded phone conversations involving top government officials. Zaev alleged that the subject content of the discussions included vote-rigging and extra-judicial killings.
Skopje has also been accused of seeking to divert attention away from its governance with a raid in the northern town of Kumanovo. Ten ethnic Albanians and eight policemen were killed in the operation on 9th May, including, according to the government, "Albanian terrorists".
This violence was followed by long queues of Macedonians crossing the border into Serbia. Adding to the tensions, Russia's foreign ministry has accused what it calls "Western organisers" of trying to stir up revolution against a government that refused to join European sanctions against Russia over the conflict in Ukraine.
Russia has often been critical of Western policy in the Balkans. Now Western diplomacy faces a test on the order of 14 years ago. If violence escalates, it could endanger the entire region's fragile political stability.