Burundi: gunfire rings out as army attempts to quell anti-president protests
Comments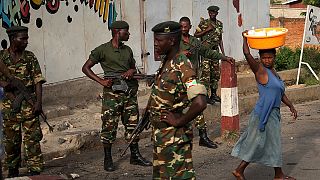 Gunfire has rung out in the Burundi capital Bujumbura, as soldiers take to the streets to quell continuing protests against President Pierre Nkurunziza.
It comes days after he survived an attempted coup.
Nkurunziza's bid for a third term in office has caused widespread anger, with critics claiming it is unconstitutional – which he denies.
"The military is shooting at us," said one street protester.
"They came here pushing and shoving us and also doing the same to journalists. Then they shot. Right now they have just shot again."
Amid the continuing unrest, Burundi's defence and foreign affairs ministers have both reportedly been dismissed.
The country is facing its worst crisis since an ethnically charged civil war ended in 2005.
Scores of people are fleeing to neighbouring countries.
More than 70-thousand refugees have arrived in Tanzania. Conditions are dire, but those who have fled say it is better than life in Burundi where they feared for their lives.