Anti-government protesters vow to occupy streets of Skopje until PM quits
Comments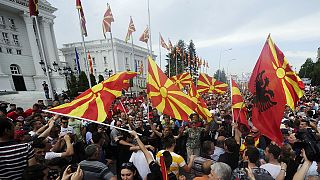 Anti-government protesters say they will camp out on the streets of Skopje until the prime minister resigns.
What began as a rally in the capital of the Former Yugoslavian Republic of Macedonia has turned into a sit-in. But with a pro-government march called for later today there are fears of a confrontation.
People camping in front of government building #Skopje. They say they will not leave before #Gruevski steps down. pic.twitter.com/i32BoyRwzK

— Marcel van der Steen (@marcelvdsteen) May 17, 2015
"Freedom and democracy has no price for us. And we will not stop until we see this dictator Nikola Gruevski resigning," said one protester.
"Those government supporters ….supporters of the Democratic Party of Macedonian National Unity can have their rally elsewhere. Here, here there will only be honest citizens of the (FYR) of Macedonia," said another.
Since February Gruevski's been reeling from the release by the opposition leader Zoran Zaev of government taped conversations he received from a whistleblower. They appear to show ministers plotting vote-rigging and meddling in the judiciary.
Gruevski denies the allegations.
But adding to the political instability, last weekend eight police officers and 14 ethnic Albanian fighters were killed in
clashes in the city of Kumanovo
.