Almost 200 arrests after deadly biker shootout in Texas
Comments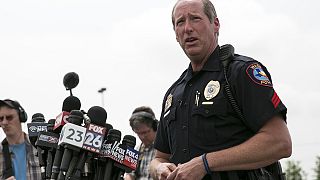 Texas police have arrested more than 190 people, after a shootout between rival motorcycle gangs left nine bikers dead.
Gunfire is said to have broken out following a dispute in a bathroom at a Twin Peaks restaurant and bar in Waco, which then moved into the car park.
"Our numbers are still solid from last night. Nine individuals have been killed at the shooting at Twin Peaks. Those individuals were all members of various biker gangs," said Sgt. Patrick Swanton, from Waco Police Department.
"We're not releasing names at this point, and I will not release the names of those gangs that were involved. We don't want to give them any credibility at all, other than to tell you they were criminal biker gangs."
It is claimed bikers attacked each other with guns, knives, clubs and motorcycle chains – leaving what has been described as an horrific crime scene.
Twin Peaks has been closed for a week amid safety concerns.
Police said restaurant management had been informed about the meeting of the rival gangs and could have done more to prevent the incident.
The restaurant manager said he is cooperating with authorities.