Kayakers protest against Shell's 'Pioneer' Arctic oil drilling rig
Comments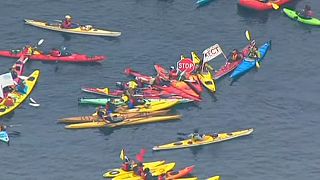 Hundreds of activists decked out in neoprene wetsuits and life jackets took to the waters of Elliott Bay on Saturday to protest against drilling for oil in the Arctic.
The activists launched a flotilla of kayaks, canoes and other boats, two days after the arrival of a towering oil rig that is the centrepiece of Shell's Arctic drilling fleet.
They held signs and banners that read: "Climate Justice", "STOP" and "No Arctic drilling".
Protest: Shell's Arctic oil rig is surrounded by kayaks and the photos are spectacular #PaddleInSeattlepic.twitter.com/4fKh0fGVS1— Elena Polisano (@elenapolisano) May 16, 2015
Polar Pioneer is 400-foot (122 metre) long and 300-foot (91 metres) tall, and is the first of two oil drilling rigs that Royal Dutch Shell plans to use this summer as it explores for oil off Alaska's northern coast.
The Arctic holds about 30 percent of the world's undiscovered natural gas and 13 percent of its oil, according to Shell's website.
Activists on kayaks protest Shell Oil's Polar Pioneer oil rig in Elliott Bay #seatttle#shellnopic.twitter.com/F7Y9QUMTOt

— Jason Redmond (@fotojay) May 16, 2015