EC to make exceptions for TV and film in digital single market
Comments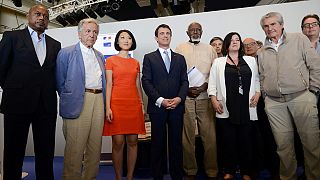 At the Cannes Film Festival the European Commission and the European film industry have taken an important step forward in the digital age.
Filmmakers had initially been aghast at the Commission's plans to make digital content available across borders.
Their inability to geo-block would have made them unable to sell individual licenses to different territories.
The Commissioner for Digital Economy and Society Günther Oettinger says TV and film may be allowed some exceptions.
"We have a European copyright coming from 2001. So we have to modernise our rules. We have to check which exemptions are needed going to a digital single market on a European Union level, what is acceptable for all these stake holders, which exemptions are needed, which business models need some special rules in our European Union."
In another move that will be welcomed by Europe and Hollywood alike, anti-piracy initiatives will be a priority of the European Commission's Digital Single Market (DSM) policy, Oettinger said.
The creation of a DSM has been listed among the top 10 priorities for President of the European Commission Jean-Claude Juncker.
He says too many barriers still block the free flow of online services and entertainment across national borders and the Commission is in the process of updating EU single market rules for the digital era.