Female foil fencers face off in Shanghai
Comments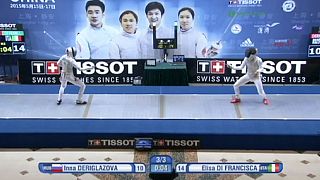 The world's greatest female foil fencers gathered in Shanghai, China, for the International Fencing Federation Grand Prix and once again the Italian two time Olympic Champion Elisa Di Francisca faced the Russian Inna Deriglazova for the gold medal.
The Italian fenced to a 6-1 lead, but the Russian fought back to 8-8, Di Francisca then edged in front again meaning Deriglazova had to chase and that proved to be her downfall.
Di Francisca came through 15-11.