Away from the political arena, Mitt Romney punches above his weight
Comments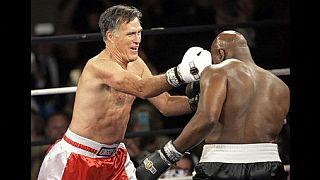 US former Republican presidential candidate Mitt Romney has taken part in a charity boxing match against five-time heavyweight champion Evander Holyfield.
The light-hearted fight saw Romney 'knock down' his opponent, before throwing in the towel later in the second round.
Organisers expect the event to raise one million US dollars for Utah-based CharityVision, an organisation working with blind people from developing nations.
CharityVision helps doctors perform surgery to restore the sight of people who suffer from curable blindness.