UK: Post-election Scotland showdown for Sturgeon and Cameron
Comments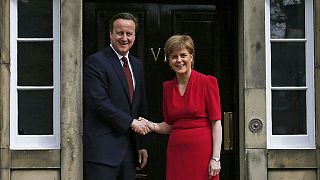 They were both winners in last week's British General Election.
Nicola Sturgeon's SNP nationalists took nearly all the seats in Scotland. David Cameron's Conservatives won an overall majority in parliament.
But as Scotland's First Minster welcomed the UK's Prime Minister to her official residence in Edinburgh, that is where the common ground ended.
Friday's meeting was billed as a showdown after a bruising election campaign in which Sturgeon said she wanted to "lock David Cameron out of Downing Street".
Firmly back in Number 10, the premier is now offering Scotland what he calls "the strongest devolved government anywhere in the world".
But Sturgeon is not yet satisfied with the new powers on offer.
She and her SNP party lost last year's referendum on independence from the UK.
For now, a new vote on the matter is not on the cards but independence remains the ultimate goal of Sturgeon and her SNP.