Palestinians demonstrate and march to mark Nakba Day
Comments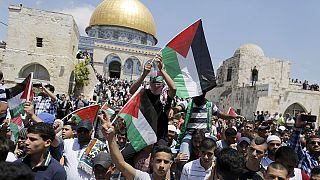 Palestinians have marked Nakba Day, when the State of Israel was founded in a war in 1948.
Demonstrations and marches have been held to commemorate the 67th anniversary of the day.
Nakba means catastrophe in Arabic and refers to the hundreds of thousands of Palestinians who fled or were forced to leave their homes.
The Palestinian President made an address on Palestinian TV.
"The plans and programmes of the Israeli governments failed to stop the Palestinian cause," said Mahmoud Abbas.
"They think the Palestinian people don't exist anymore because they think that the old people died, that the youth have forgotten and the only solution is to resettle the Palestinians in other places."
Abbas said the Israelis "do not understand there can be no peace with occupation" and the events of 1948 will never be repeated.
In refugee camps near Bethlehem, large keys symbolise the homes people left behind.