Holocaust film stuns Cannes Film Festival
Comments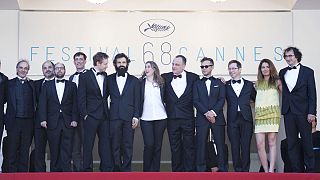 Hungarian director Laszlo Nemes Jeles has created a stir at the Cannes film festival with his wrenching "Son of Saul", portraying the work of the Jewish "sonderkommando" labourers who were forced to do some of the Nazis' dirty work in death camps.
In a movie at times almost too intense to watch, Nemes and his cast show the "sonderkommando" teams who were used by the Nazis to convince newly arrived inmates at Auschwitz to strip off their clothes and enter the gas chambers — on the pretence that they should move quickly or their soup would get cold.
The sonderkommando had to scrub out the chambers after each use and remove the corpses, which the Nazis referred to as "pieces", to the ovens for cremation.
The film unflinchingly shows labourers stoking the ovens with coal and shovelling ash into a river – part of the Nazis' effort to conceal their crimes.