US: engineer of derailed train can't remember what happened
Comments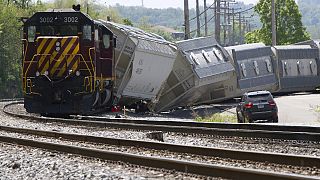 The man at the helm of a train that
derailed in the US says he cannot remember what happened.
Rescuers pulled an eighth body out of the wreckage on Thursday.
The Amtrak train was bound for New York City from Washington D.C. when it crashed on Tuesday night.
The train is said to have been barreling into a curve at more 100 miles per hour, twice the speed limit.
The National Transportation Safety Board (NTSB) said the engineer, identified as 32-year-old Brandon Bostian, triggered the emergency brakes seconds before the accident.
But Bostian's lawyer says he has not been able to remember hitting the brakes or little else about the derailment.
One of the seven cars flipped over and three others were overturned in the crash. Passengers, crew and luggage were thrown from seats and overhead racks. About 200 people were injured.
Police have launched a criminal investigation into the crash.