UK rejects EU quota plan to solve migrant crisis
Comments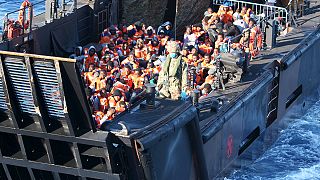 Britain's new Conservative government has already expressed a firm "No" to EU plans for a quota system to deal with the migration crisis which has led to thousands of deaths in the Mediterranean.
On Wednesday Brussels unveiled proposals to bring 20,000 asylum-seekers to Europe and suggested a way of dividing them more fairly among member states.
The plan would cover the next two years and cost around 50 million euros.
But Britain which along with Denmark and Ireland already has exemptions from EU migration laws wants the bloc to do more to target people smugglers in Libya and to launch a naval and air mission to seize smugglers' vessels.
Judith Sunderland of 'Human Rights Watch' remained unconvinced:
"Well I asked people about either whether they'd heard about this idea of a military operation to destroy the smugglers boats and really crack down on smuggling networks, and everyone… well, nobody had really heard about that, but everybody was shocked and said, 'Oh gosh, you know, that wouldn't be destroying the boats that would be destroying human lives'."
Some 51,000 migrants have entered Europe by crossing the Mediterranean sea this year and about 1,800 have died in the attempt.
The EU Commission is urging EU states to share the burden of processing asylum claims as Italy and Greece struggle to cope.