Poor safety standards blamed as dozens die in Philippines rubber factory fire
Comments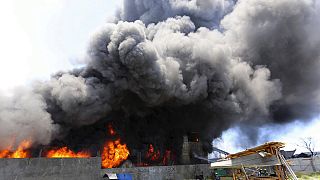 A fire that gutted a factory in the Philippines has killed dozens of people.
Our co-workers upstairs did not know of the fire down below, so they could not get down. They were trapped
The local mayor for the area, Valenzuela City on the outskirts of the capital Manila, said on Thursday that the official figure had risen to 72.
Valenzuela Mayor Gatchalian: This is the biggest fire that ever hit the city in terms of casualties cnnphilippines</a> <a href="http://t.co/pT7gc5yrcU">pic.twitter.com/pT7gc5yrcU</a></p>&mdash; Rex Remitio (Rexremitio) 13 Mai 2015
Police said the previous day's fire started when sparks from a welding machine ignited flammable chemicals near the main entrance.
Workers became trapped on the upper floor of the two-storey factory, which made rubber flip-flops and slippers for a company named as Kentex Manufacturing Corp, reportedly for the local market.
"There was an explosion and a big fire, so we immediately rushed to the fire exit, but some of our co-workers upstairs did not know of the fire down below, so they could not get down. They were trapped. I believe there were 70 of them there," said factory worker Elizabeth Indoy.
TASKFORCECHARLIE, i've seen and heard the actual explosion before, late morning over looking from our house. we've gone there sa mismong site ng nsusunog and have taken this actual video knina lng, up to this moment malaki p rn po ang usok. Video taken and uploaded by: Ivy Joyce Milan-Brito Agbu UNTV – Your Public Service Channel UNTV 37

Posted by Ivy Joyce Milan-Brito Agbu on Tuesday, May 12, 2015
The father of a missing worker said he had been unable to identify his daughter.
"I was hoping that if I saw the body, I would be able to recognise her, but when I saw the remains, I couldn't. Any parent will not recognise their child from the burnt skeletons," Dionisio Candido said.
The difficulty of retrieving bodies from the wreckage aggravated the task of estimating the number of victims.
Their relatives have claimed that employees had not been told what to do in the event of fire, as well as denouncing working conditions and safety standards in the factory. It is said that a toxic odour was often present on the premises.
It has also been claimed that workers were paid barely 300 pesos a day (5.9 euros), below the minimum daily wage for Manila which is 481 pesos (9.5 euros).
Such conditions are said to be common in the Philippines, Southeast Asia's fastest growing nation.