Fears for Colombian miners trapped in flooded gold mine
Comments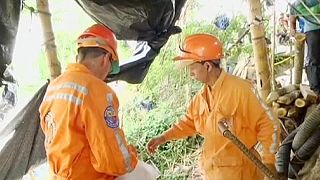 Rescue workers are working against the clock to reach at least 15 miners trapped in a flooded gold mine in northwestern Colombia since Wednesday.
It is believed a power outage or an explosion could have triggered the flood.
The mine's owner said many managed to escape, although he feared those trapped may not have survived.
One of the survivors spoke of his lucky escape saying, "I survived because it wasn't my day to die… I was the last one to make it out. I was climbing with a friend from the hole grabbing at poles. My friend didn't make it because when the mine filled up it fills up with gas and the gas drugs you."
It will be an anxious wait for the relatives of the trapped miners, as authorities said it could take three days to clear the mine.