Confusion reigns in Burundi over success of coup attempt
Comments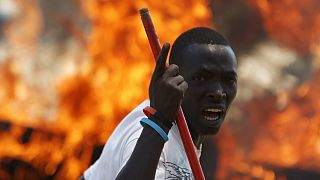 Locals run for cover on the deserted streets of the Burundi capital.
Clashes which erupted overnight between troops loyal to the president and those who back a coup continued around the main state broadcaster in Bujumbura on Thursday morning.
Confusion reigns over the success or failure of a coup attempt as claims and counter claims are made.
President Pierre Nkurunziza who was at a summit in Tanzania when the coup was announced on Wednesday has called on citizens to remain calm and said loyalist forces still controlled all strategic points in the country. It comes after Maj Gen Godefroid Niyombare declared Nkurunziza's ouster for seeking a third term in office.
Je demande à tous les burundais de garder le calme face à l'imposture. La situation est sous contrôle et l'ordre constitutionnel sauvegardé.

— Pierre Nkurunziza (@PierreNkurunziz) 14 Mai 2015
However, the president's whereabouts remain unknown as he was unable to return home after attending a summit in Tanzania. Two Tanzanian sources told Reuters newsagency that he was still in Dar es Salaam. He had attempted to leave the summit on Wednesday but was apparently unable to land in Burundi as the
airport was closed to prevent his return.
Tanzanian President Jakaya Kikwete speaking on behalf of the summit attendees said, "(the coup) does not solve the problems of Burundi, we don't accept the coup, we condemn it in the strongest terms possible and we call upon return to constitutional order in that country."
The clashes in Burundi come after weeks of protests over President Nkurunziza's plans to run for a third five-year term in office in an apparent breach of the constitution. He has so far refused to postpone next month's election, despite calls from the Tanzania summit to do so.