Burundi journalist describes 'atmosphere of joy'
Comments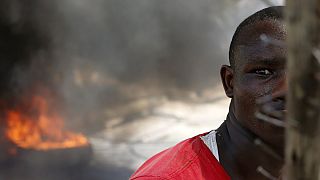 A Burundi journalist has told euronews that there is an "atmosphere of joy" in the streets, after a general claimed to have deposed President Pierre Nkurunziza.
It comes after two weeks of demonstrations against Nkurunziza's bid to seek a third term in office.
But as cheering crowds streamed on to the streets of the capital Bujumbura, sporadic gunfire was heard in the centre – and it was not immediately clear how much support Major General General Godefroid Niyombare had.
With Nkurunziza abroad at an African summit to discuss the crisis, the presidency rubbished the declaration by Niyombare – who had been fired as Nkurunziza's intelligence chief in February – saying on Facebook that the coup had been "foiled."
"Burundi's national radio and television is surrounded by many soldiers," Aristide Nizigire, a journalist with the Magara Times, told euronews.
"In the south of the capital, there are many people walking and running, women and children running, saying that they're happy. We have victory, we are so happy.
"And really there is an atmosphere of joy. Many people are sitting next to the road, drinking alcohol, eating, they are very happy."