UK unclear if jihadi runaways can return home
Comments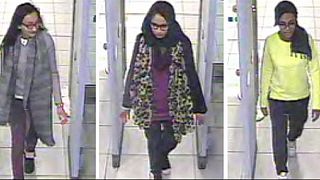 Britain's Foreign Office is looking in to reports that three British schoolgirls are on the run after escaping from ISIL jihadists in Iraq.
There is speculation that the trio could be the London girls who ran away to join ISIL earlier this year.
British schoolgirls who fled to Syria to be jihadi brides are on the run from Isis, report claims http://t.co/W2cD0eQ2ht

— The Independent (@Independent) May 13, 2015
Teenagers Kadiza Sultana, Amira Abase and Shamima Begum were last seen filmed on Turkish CCTV before crossing into Syria.
However a blog based in the Iraqi city of Mosul has reported that three foreign girls married to ISIL militants are being hunted by the extremists.
ISIL declared an Islamic caliphate across parts of Syria and Iraq it seized last summer, and has killed thousands of people.
While the UK government is concerned about the blogger reports it will not say whether the three girls, who had left to become jihadi brides, might be allowed back into Britain.
When Britain's Home Secretary Theresa May was questioned about the teenagers reported to be missing in Iraq, she said that attempts by British jihadis to return from Syria or Iraq would be decided on a case-by-case basis.
Reports suggest that about 600 people from the UK have gone to join ISIL including young women.