The glitz, the glamour, the Croisette: Cannes before the storm
Comments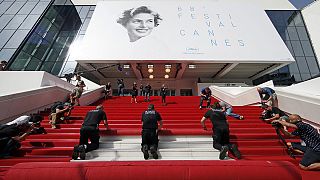 It's back for another year, the 68th Cannes Film Festival opens on Wednesday. It is the calm before the storm of glitz and glamour on the red carpet this evening, a shimmering onslaught that will last for the next twelve days.
Our special correspondent Frederic Ponsard at the festival has prepared a little behind the scenes report of Cannes, the real star of the festival.
It's on the Croisette that stars head after a hard day on the festival circuit, topping up their tans on the beach and unwinding at luxury hotels.
Approaching the Palais des Festivals, you can find the International Village – it's here that different countries set up shop to showcase their stars of the silver screen. This year the flags of 60 different countries are flying above the pavilions.
With the right accreditation for the Marché du Film it's access all areas, for screenings, conferences, networking and more.
The honour of opening night film is reserved for the Queen of French cinema, Catherine Deneuve, and the film "La Tete Haute" or Standing Tall. At a press screening earlier on Wednesday it received lukewarm reviews. Although that's an improvement on last year's opener, Grace of Monaco which premiered to booing from the audience.