Investigation into cause of deadly Philadelphia train crash
Comments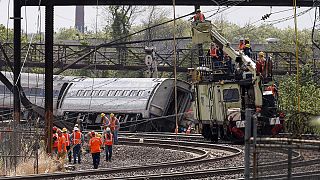 At least seven people are now known to have died and scores of others injured in a train crash in Philadelphia.
All seven carriages and the engine of the Amtrak train came off the track while travelling towards New York City.
Authorities say they still do not know what caused the crash, which left about 135 people in hospital.
Robert Sumwalt from the National Transportation Safety Board told a media conference: "We're looking at the track, the train signals, the operation of the train, the mechanical condition of the train and human performance.
"We are setting up a multi-disciplinary investigation to try to understand the factors that led to this accident."
The train was carrying some 240 passengers and crew.
US media quote FBI officials as saying there is no indication that the crash was caused by an act of terrorism.