'Grexit' from European education systems? Hundreds in Athens protest government reforms
Comments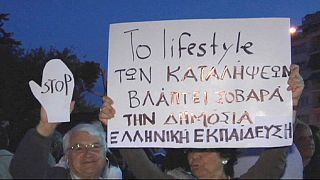 Over 400 people have gathered in Athens to demonstrate against education reforms.
It's a Greek education Grexit from the European systems.
The crowd consisted largely of university professors and school teachers angry at an apparent politicisation of the education system. Reforms include: changes to the way higher education intake will be managed; new systems for appointing head teachers and university deans; and bringing back students who left without graduating.
Thanos Veremis is Emeritus Professor at the University of Athens. He said:
"It's a Greek education 'Grexit' from the European systems. And I really do not know what message the reform – or anti-reform, as we're calling it – is sending to the rest of Europe."
While former university Dean-turned-opposition-MP Theodoros Fortsakis claimed:
"The best students will be completely discouraged from becoming involved in the educational process."
Demonstrators say the reforms mean politics will make a comeback in the day-to-day operation of educational institutions, particularly universities.
Euronews' Akis Tatsis echoed this feeling:
"Those demonstrating claim, among other things, that the Greek government's reforms take the country's education system back 40 years."