'Gay traffic lights' introduced in Vienna
Comments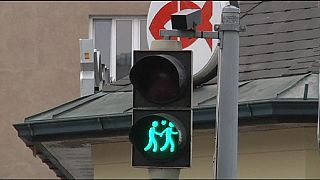 Austria's capital is gearing up to host the Eurovision song contest by turning the city into a beacon of tolerance.
Across Vienna, special traffic lights have been installed to promote acceptance of same sex couples.
In other news today… Vienna installs gay-themed traffic lights ahead of Eurovision 2015 http://t.co/JKp4HD7tenpic.twitter.com/vWG3hx9daB

— RT (@RT_com) May 12, 2015
Instead of the usual stickmen, some traffic lights are showing lesbian and homosexual couples.
The special lights will remain in place for six weeks, to coincide with the song contest, which kicks off on May 18.
Semi-finals start on May 19 and May 21, while the final will be held on May 23.