Extreme climber admires Nepalese resilience
Comments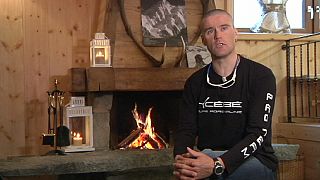 Italian climber Marco Confortola was up Mount Dhaulagiri when the Himalayan range shook on April 25th. His second ascent of the more than 8,000-metre super-peak [he has scaled eight of the world's tallest] this time was to deliver recyclable supply containers.
We talk to him back at home in Valfurva, in the Italian Alps.
Confortola has survived many such climbs, but this was his first earthquake.
"At first it wasn't clear what was going on, then with the continuous tremor we realized it was an earthquake. Ten minutes later there was a strong shock and we understood the discharge of energy must have caused a disaster down in the valleys."
Correspondent Daniela Castelli asked: "So you decided to leave the base camp. Walking up and down mountains is your job, but what spurred the decision here?"
"Helicopters were available at Mount Everest [some 370 kilometres away] to retrieve severely injured people, [but] we were well off, physically. Our descent [of Dhaulagiri] was very challenging because there were collapsed roads, bridges, paths and avalanches. It wasn't easy, but it seemed logical, as I'm a helicopter rescuer, that the people who really needed it should have priority, including the local population."
Confortola's group of five took 48 hours to descend from 4,500 metres, (the usual time is four days), to be greeted by…
"…devastation. I saw countless homes and whole villages collapsed to the ground, so much sadness and devastation. But I also saw the Nepalese people ready to rise again, with rubble all around them but already trying to prepare to rebuild.
"What stays in my mind the most is the smile of a little girl in a village, whose home had been destroyed. I gave her some candy and medicine, because she had dysentery. This little girl's smile was to say thank you. These are people who have not given up. They've been laid low by the earthquake but they want to return to normal living quickly."
[The summit of Mount Dhaulagiri is 8,147m altitude; Mount Everest tops out at 8,848m.]