Brazilian President Rousseff to step up involvement in preparations for Rio 2016
Comments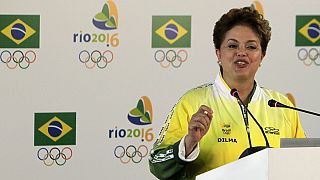 Brazilian President Dilma Rousseff has pledged to step up her involvement in preparations for the Rio Olympics in a meeting on Tuesday.
Rousseff, who was re-elected last year for a second term in office, met with senior Rio 2016 officials including Rio Mayor Eduardo Paes and Rio state governor Luiz Fernando Pezao to discuss the progress of the Games.
"I promised (Rio 2016) President Nuzman and our objective is to integrate ourselves more deeply," she said. "We have to show off the country through the organisation of the Games, through the security.
"We have to guarantee the beauty of the Olympics Park with construction that is perfectly on time."
"I am certain that Brazil will host a perfect Games."
Last year, the Rio organising committee came under intense scrutiny over the delays in the construction of venues, with International Olympic Committee Vice President John Coates comparing the progress at the Barra Olympic Park to the last-minute efforts of the 2004 Athens Olympics organisers.
For the final few days, construction workers were forced to juggle three shifts to complete the main stadium on time.
But this year, the focus has shifted to the State Government, particularly over the pollution in the Olympic sailing venue, Guanabara Bay.
Olympic sailors last month described the bay as an "open sewer" as the world governing body for sailing threatened to remove events from the area altogether unless "a whole lot more is done very quickly" to clear the water of floating debris and dead fish.
The promise to cut the flow of pollutants into the bay by 80% was a key part of the city's Olympic bid and was widely regarded as one of Rio's most enduring legacies of hosting the games, yet as early as in January, it was clear the target would not be met.
Back then, Rio's state environment secretary Andre Correa said that although he couldn't provide an estimate of how much organisers would actually succeed in cutting the flow of pollutants into the bay, he was certain the initial prediction would be impossible to achieve.
"Removing 80% of the pollutants? It's not going to happen, it's not going to happen," he said. However he was quick to stress that "there's no big risk for sailors having troubles with illnesses and such things."
Rousseff in the meeting also confirmed that the Petrobras corruption scandal which has engulfed many politicians and construction firms would not affect venue construction.
"I don't see any impact that could have on Olympic projects," Rousseff said. "I don't have anything showing that it could have an impact."
Rousseff intends to meet organisers and government officials in the coming months to keep a closer eye on preparations in Rio.
The Rio 2016 Olympics will be held from September 5 to 21 and will be the first ever Olympic games to be held in South America.