Wrecked Costa Concordia liner makes its final journey
Comments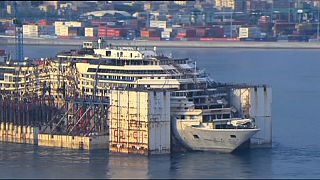 The wreck of the Costa Concordia cruise liner has made its final journey as it was towed to its last berth where it will be demolished.
The vessel which ran aground near the island of Giglio in 2012, killing 32 people was pulled 16 kilometres across a port in Genoa 10 months after it was taken there to be dismantled.
The liner had to stripped of enough material to allow it to pass over the breakwater of the Prà Voltri Port, its final destination.
It marks an important moment for the vessel which was the site of Italy's worst maritime disaster since the Second World War.
It also caused controversy during the court case of Captain Francesco Schettino who was sentenced to 16 years jail for manslaughter, five for causing a shipwreck, one for abandoning ship, and an extra month for giving false information to authorities after abandoning ship before all 4,200 passengers were safely ashore.