Pioneering Yachtswoman wins 'Woman of the Year' award in Monte Carlo
Comments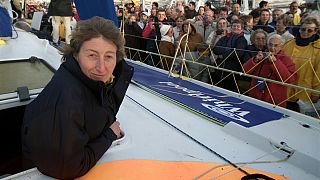 Women and the Sea was the theme of this year's Monte Carlo 'Woman of the Year Award', and it was in the illustrious setting of the principality's yacht club surrounded by the Mediterranean sea that French sailor Catherine Chabaud was presented with this year's international prize.
The first woman to complete a solo round the world non-stop voyage 1997, she was awarded for her dedication to marine conservation, a subject dear to the heart of the award's organisers for obvious reasons.
"We have the Mediterranean sea in front, so, with the Prince Albert II Foundation, this subject is unavoidable with all that is being done for ecology and environment (here in Monaco), explained Cinzia Sgambati Colman the founder of the prize. "There are a lot of women engaged in it and we felt obliged to get involved in it."
Monaco-born Jacqueline Debernardi Gautier was also awarded for her work in protecting Monaco's underwater life.