Yemen humanitarian truce under threat from intense border clashes
Comments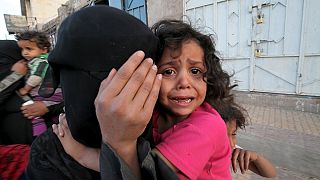 As the Saudi military reinforces security along the border with Yemen, Morocco reports that one of its fighter jets has gone missing over the country.
The loss of the plane, and exchanges of heavy weapons fire across the border, could jeopardise a humanitarian truce due to begin on Tuesday.
Yemen's Houthi militia, which is allied with Iran, say regional tribesmen shot down the Moroccan jet.
Numerous people, including civilians and soldiers, have been killed in the exchanges of fire across the Saudi-Yemen border.
New Saudi-led airstrikes have set off large explosions in the capital, which is controlled by the Houthis. The residence of former president Saleh has been left in ruins.
Attempting to restore exiled President Mansour Hadi to power, Riyadh has been bombing the Houthis and army units loyal to Saleh since the end of March.
An untold number of people have been killed and wounded in the conflict.
The humanitarian situation on the ground has been worsening, with widespread shortages of water, food and medical supplies.